Features
11,000# Hot Stock Tractor Class
2020 Points Winner:
Jeremy Spradling
(pictured)
Dirty Harvester
2nd Place: Terry Barnes
3rd Place: Don Yanskey
6,000# Pro Field Tractor Class
2020 Points Winner:
Derek Otto / Kaitlyn Otto
(pictured)
Light MM Up
2nd Place: Blue Scooten
3rd Place: Joe Otto
8,500# Limited Pro Stock Tractor Class
2020 Points Winner:
Jeff Koerkenmeier
(pictured)
The Dude
2nd Place: Josh Maddux
3rd Place: Mel Smarr
6,200# Super Street Truck Class
2020 Points Winner:
Larry / Justin Weidinger
(pictured)
Thumper
2nd Place: Bill Bracht
3rd Place: Keith Brinkley
9,500 Limited Pro Stock Tractor Class
2020 Points Winner:
Bo Eilenstein
(pictured)
Coming Undone
2nd Place: Brandon Trinklein
3rd Place: Gary Honeycutt
6,200# Pro Street Truck Class
2020 Points Winner:
Randy Behle
(pictured)
Double Trouble
2nd Place: Cole Reese
3rd Place: Shane DeWesplore
6,500# Limited Super Stock Tractor Class
2020 Points Winner:
Dave Otto
(pictured)
Rair Edge
2nd Place: Benny Lupardus
3rd Place: Zach / Andy Goeller
6,200# Pro Stock Truck Class
2020 Points Winner:
Bret Powell
(pictured)
The Kings Horses
2nd Place: Kale Stewart
3rd Place: Bill Brouk
8,000# 2.6 Diesel Truck Class
2020 Points Winner:
Jared Bell / Kurt Looney
(not pictured)

2nd Place: Corey Peck
9,500# Pro Field Tractor Class
2020 Points Winner:
Shawn Mebruer
(pictured)
Mean Streak
2nd Place: Shawn / Mark Smart
3rd Place: Michael Poehlmann
8,000# 3.0 Diesel Truck Class
2020 Points Winner:
Jason Gudde
(not pictured)
Disposable Pleasure
2nd Place: Syler Leeper
3rd Place: Dalen Bell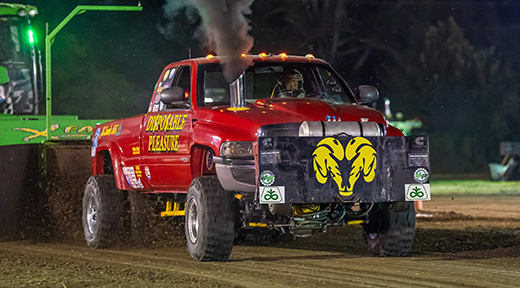 Rule Changes/Reminders
Traction Control is not allowed in any of the truck classes. If caught running traction control you will be out for a year and a day. MMTTPA is considering buying a 7AL box that would be randomly put on vehicles throughout the year.
5900 pro-field tractor class weight limit changed to 6000 lb.
9500 Pro-Field tractor

No intercoolers
No billet chargers
GT42 box charger

All diesel truck and tractors must have a 3 way dump valve. Must be able to be pulled from the drivers seat.
Everyone should have inner side shields unless you are under 3000 RPMs. Inner side shields should be bolted to frame under block for trucks.
Turbos will be sealed in the 11000 Hot Stock and 9500 Pro-Field tractor classes.
Class jumping - You can only jump up 1 level from your primary class
straps need to be tight
Gilitins will be checked. Ned to be able to be pulled from the seat.
If you need to have your vehicle teched/pumped and/or do membership paperwork please arrive at least an hour before show starts.
Sponsors
Sled
Announcements
January 9th is the Rules Meeting at 3 pm and the banquet is at 6 pm at the Westphalia Knights of Columbus Hall. Address is 819 Hwy 63, Westphalia, MO 65085. If you'd like to order a jacket please get your order to LuAnn Kemna by December 19th. Please RSVP for the banquet to LuAnn by December 31st.
Be thinking of class representatives
All Pro Stock 4x4 truck drives please attend the rules meeting
Schedule an Event
For information on scheduling a show with us please contact Larry Kemna at 573.291.2979.