Features
11,000# Hot Stock Tractor Class
2020 Points Winner:
Jeremy Spradling
(pictured)
Dirty Harvester
2nd Place: Terry Barnes
3rd Place: Don Yanskey
6,000# Pro Field Tractor Class
2020 Points Winner:
Derek Otto / Kaitlyn Otto
(pictured)
Light MM Up
2nd Place: Blue Scooten
3rd Place: Joe Otto
8,500# Limited Pro Stock Tractor Class
2020 Points Winner:
Jeff Koerkenmeier
(pictured)
The Dude
2nd Place: Josh Maddux
3rd Place: Mel Smarr
6,200# Super Street Truck Class
2020 Points Winner:
Larry / Justin Weidinger
(pictured)
Thumper
2nd Place: Bill Bracht
3rd Place: Keith Brinkley
9,500 Limited Pro Stock Tractor Class
2020 Points Winner:
Bo Eilenstein
(pictured)
Coming Undone
2nd Place: Brandon Trinklein
3rd Place: Gary Honeycutt
6,200# Pro Street Truck Class
2020 Points Winner:
Randy Behle
(pictured)
Double Trouble
2nd Place: Cole Reese
3rd Place: Shane DeWesplore
6,500# Limited Super Stock Tractor Class
2020 Points Winner:
Dave Otto
(pictured)
Rair Edge
2nd Place: Benny Lupardus
3rd Place: Zach / Andy Goeller
6,200# Pro Stock Truck Class
2020 Points Winner:
Bret Powell
(pictured)
The Kings Horses
2nd Place: Kale Stewart
3rd Place: Bill Brouk
8,000# 2.6 Diesel Truck Class
2020 Points Winner:
Jared Bell / Kurt Looney
(not pictured)

2nd Place: Corey Peck
9,500# Pro Field Tractor Class
2020 Points Winner:
Shawn Mebruer
(pictured)
Mean Streak
2nd Place: Shawn / Mark Smart
3rd Place: Michael Poehlmann
8,000# 3.0 Diesel Truck Class
2020 Points Winner:
Jason Gudde
(not pictured)
Disposable Pleasure
2nd Place: Syler Leeper
3rd Place: Dalen Bell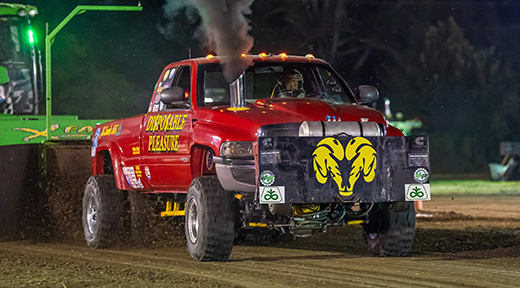 Reminder:
Please no riding in beds of trucks or on fenders and backs of tractors
Attention all Pro Stock 4x4s
MSD does now have the seals. Remember you must send in and get box inspected and sealed to pull this year. The pullers will call Mark Herrera with MSD repair dept at 1-888-258-3835 for an RMA#. Tell them it is for tractor pulling in order to get the insepction and seals installed. It will be a minimal fee he said.
Sponsors
Sled
Schedule an Event
For information on scheduling a show with us please contact Larry Kemna at 573.291.2979.